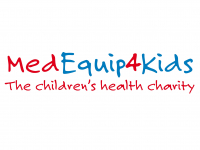 Medequip4kids
The Appeals Office,
Rico House,
George Street,
Prestwich,
Manchester
M25 9WS
T:
0161 798 1600
M:
07766310697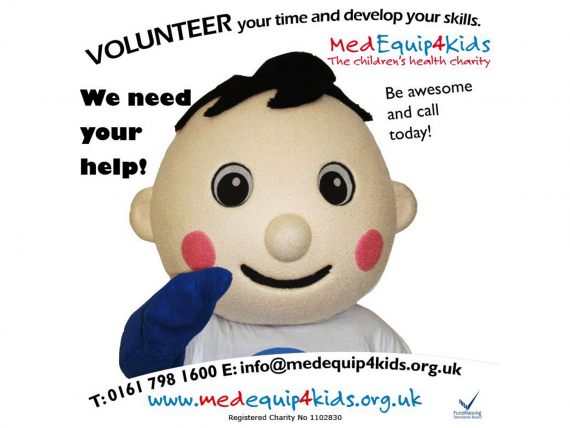 about us
Charitable organisation helping children and their families in and around the Bury area. The Best of Bury Charity of the Year 2010
MedEquip4Kids
Charitable organisation helping children and their families in and around the Bury area
thebestofbury Charity of the Year 2010

Now based in Prestwich, MedEquip4Kids began in 1985 after a baby girl suffering from meningitis was sucessfully treated and made a full recovery at Booth Hall Children's Hospital. Her parents wished to thank the Manchester hospital, and decided to set up the Bobby Bear Appeal, which focused on fundraising for the Intensive Care Unit.
After the undisputed success of the Bobby Bear Appeal,in which £1 million was raised, the charity expanded to cover Pendlebury Children's Hospital. This expansion was subsequently followed by the whole of Greater Manchester, including Bury and the surrounding area, but renamed as the Children's Hospitals Appeal Trust, or CHAT. To avoid confusion with the New Children's Hospital Appeal being set up in Manchester, the charitable organisation became known as MedEquip4Kids.
---
MedEquip4Kids has now evolved to work in conjuction with medical staff, play therapists, community nurses, the ambulance service and other charitable organisations. Some equipment known to benefit the care of children in hospital is unfortunately not readily available within the limited budget of the NHS, so MedEquip4Kids aims to fund these important items and improve the environment in hospitals throughout the North West,including Bury and other local areas.
Increasingly, larger hospitals have the means to employ professional fundraisers to secure those extras the NHS cannot fund. However,smaller hospitals do not have access to a fundraising officer, so staff like nurses and paramedics raising money in their spare time and during their working day is not uncommon. MedEquip4Kids provides a unique and invaluable service in the North West and in local areas like Bury, fundraising on behalf of the wards and units of local hospitals.
---
MedEquip4kids has also provided items for the Children's Unit at Fairfield Hospital in Bury, which were delivered in March 2009. The unit asked MedEquip4kids to provide 6 Oxygen Saturation Monitors at a cost 0f £600 each, which will help medical staff to accurately assess the pulse rate and oxygen saturation level of a patient. This new equipment can provide a much more reliable reading on babies and small children,as they can get distressed easily.
---
As part of their policy, MedEquip4Kids believe these vital front-line staff should be focusing solely on caring for children, therefore resulting in the charity's aim is to fundraise on their behalf. The money raised is spent directly on the equipment they request and no money goes to any third party.
Get Active with Pip
MedEquip4Kids knows that exercise is vital for healthy children, so mascot Pip is on a mission this academic year! The challenge is to motivate 30,000 children into doing an hour of exercise every day for one week.
Get Active with Pip has already been presented to more than 20,000 children in the North West,and after its launch in 2007 it has been encouraging them to make healthy lifestyle choices regarding diet, exercise, sleep and personal hygiene/cleanliness.
Funds raised for MedEquip4kids by children throughout the North West and Bury will be spent providing equipment for sick and injured babies and children in hospital.
---

Ways you can help:
Donate

Fundraising events

Gift Aid

Fundraising website - Just Giving

Payroll giving(monthly)

Standing order payment

Recycling mobile phones and toner cartridges

Volunteer with MedEquip4kids
Fundraising events for MedEquip4kids take place throughout the year,with everything from MEGAHIKE to a parachute jump! For more information please visit our events page at thebestofbury under charitable organisations
---
For further information about MedEquip4kids please contact
Lindsay Southall - community fundraiser
on 0161 798 1600 or 07766 310697
Please mention that you found us at thebestofbury when contacting this charitable organisation.