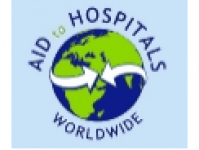 Aid to Hospitals Worldwide
Aid to Hospitals Worldwide
PO Box 603
Bury St Edmunds
Suffolk


IP33 9DF
T:
01284 754900
about us



From a base in Bury St Edmunds, Aid to Hospitals Worldwide (A2HW) refurbishes used and redundant hospital equipment for the developing world.
Aid to Hospitals Worldwide is...
Dedicated: to equipping hospitals, clinics and schools in some of the world's poorest countries; to providing free medical and surgical aid and ancillary items to provide patient care and comfort; to offering IT equipment.
Working: to recycle for re-use donated medical equipment superseded in the UK; to refurbishing and checking items for overseas use thus reducing high disposal costs, carbon footprints and diminishing places in landfill.
In 2008, 44 containers full of medical equipment and supplies were shipped to 27 countries and as a result many lives will be improved or even saved.
---
A2HW cleans, refurbishes and packs used and redundant hospital equipment from our premises in Bury St Edmunds and sends it to the developing world.

Equipment in our hospitals soon gets outdated. We take all kinds of serviceable equipment, that the NHS and private hospitals in the UK no longer need, and send it to hospitals in Africa and Eastern Europe, where it saves lives.

Checks are made in the UK to establish the recipients' requirements and to gain assurance that the supplies will arrive at their intended destination.

No charge is made for any goods supplied and we source items to order. A2HW links up with existing charities and organisations to arrange delivery.
---
Our commitment is to help those in need, regardless of colour, creed or ethnicity. We respond to specific needs from recognised charities and other organisations, whilst ensuring recipients have the resources to make best use of the equipment they request.

You can help by volunteering, offering equipment and supplies or donating funds.
Get in touch by email: contact@a2hw.org.uk
Or
For more information visit our website: www.a2hw.org.uk
Please remember to let us know you found us on The Best of Bury St Edmunds.
© The Best of Bury St Edmunds