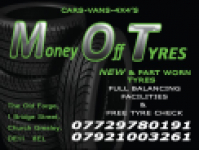 Money Off Tyres
Unit 8,
Occupation Lane,
Albert Village,
Church Gresley
Swadlincote


T:
07729780191
M:
07729780191
about us
Money Off Tyres offers a product and service that really is as simple and clear as its name. A top quality product, at the cheapest price you can find, guranteed!
Running a car is an increasingly expensive business - but you can save cash by turning to Money Off Tyres to keep you on the road.
Based at Unit 8, Occupation Lane, Albert Village, Money Off Tyres specialises in supplying tyres direct to the public at trade prices.
You can save between 25% and 50% across the board on both branded and budget tyres.
Run for the last 18 months by Scott Lavill, this customer service-focused business can also organise tracking and wheel balancing for you at very competitive prices. Working in association with D W Recovery, Scott can also access a range of spare parts and recycled parts to help you make effective and reliable car repairs for a great price. If you need work on your car, contact Money Off Tyres as they will always do everything they can to get you the best possible price for parts - and advice that you can trust.
Tyres, Tyre Fitting and Tyre Repair
The selection of tyres available on the market is overwhelming. Some tyres are very high quality and will give exceptional mileage, whilst more reasonably priced tyres are more suited to budget concious urban motorists.
Here at Money Off Tyres we supply and fit whatever type of tyre you wish, whether you want the specific tyres recommended by the car manufacturer or a more reasonably priced. If we haven't got a particular tyre in stock, we can usually recommend a similar alternative or order in the tyre of your choice with a rapid turn around time.
Wheel Alignment
Keeping your vehicle's wheels aligned is very important. It is essential that all wheels on your vehicle are aligned precisely to the manufacturers' specific measurements. If one wheel is out of alignment by even a fraction, it can have a dramatic effect on your driving and the lifespan of the tyre. With all the potholes, anti-speed ramps and bumps on the road, or hitting the kerb, it doesn't take much to knock a wheel out of alignment. Wheel alignment is not only important for prolonging the life of your tyres, it also assists road holding.
Here at Money Off Tyres we use four-wheel alignment for the most precise alignment possible. This precision ensures your car tracks properly on the road and reduces wear on your tyres.
---
So for all your tyre needs and requirements, be sure to give Money Off Tyres a call today. Don't forget to mention thebestof Burton when contacting this Business.