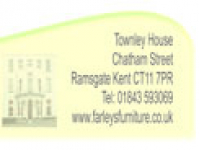 J.C.Farley Ltd
48-54 Chatham Street
Ramsgate
Kent
CT11 7PR
T:
01843 593069
F:
01843 853956
about us

Open 7 days a week. Farley's Beds and Bedding offers a like for like take away service and free delivery across Broadstairs and East Kent.
JC Farley Ltd
Beds and Bedding
One of Ramsgate's oldest established businesses and the premier bed and bedding supplier takes a pride in offering the family service and values which has made it a household name in Ramsgate, Broadstairs, Margate and far beyond. Celebrating 78 years of excellent service, Farley's Beds and Bedding has always prided itself on value and service, and although seldom beaten on price, believes this is not the sole criterion. Quality and customer care are important and acknowledged elements of the Bed and Bedding business.
Open 7 days a week. Farley's Beds and Bedding offers a like for like take away service and free delivery across Broadstairs and East Kent.
Farley's has everything from 2'6" beds to super king size luxury divans, metal and timber bedsteads, 4 posters and mattresses to fit. We also have a wide range of sofa beds, futons. guest beds, bunk and sleep stations.
We carry a large stock of beds and bedding available for immediate delivery from a wide range of beds and bedding suppliers including Mansion House, Koee Sleep, Myers, Nestledown, Simmons, Slumberland, Dreamworks, Bentley designs, Staples, Adjustables, Airsprung, Kyoto Futons.
As well as ordinary beds we also stock at our Ramsgate shop a large range of orthopaedic beds, fully supporting 2'6" to 6' beds, bedding and mattresses to provide full support for a good nights sleep particularly useful for preventing or soothing bad backs.
We also stock twin and single motor fully adjustable electric beds. Life and comfort enhancing adjustable beds, with easy to use hand held controls. Electric beds are available in a range of styles at affordable prices. Farley's Beds and Bedding now has a Home Sales department which is dedicated to those who find shopping a real challenge.
If you are unable to travel yourself to the Ramsgate shop for whatever reason, Home Sales will assist you by either taking you to the products or bringing the products to you with no obligation. You can be assured that the Farley's ethos which has delighted their customers for 78 years will be the same at no extra cost. Home Sales will help you with Home Demonstrations of bed and bedding. If applicable Home Sales will assist you in filling out VAT exemption forms thereby cutting out any confusion and worry, and helping you make the right choice. Home Sales will deliver free of charge!
As well as beds, bedding and mattresses Farley's can furnish and carpet your whole bedroom. All carpets are fitted be our own fitters, who offer a high quality service. We have in stock a wide range of bedroom furniture from traditional to more contemporary styles, for that dream bedroom. We have a large stock of mirrors and pictures, rugs and bedding to complete your dream bedroom. From suppliers including Alsons, Willis & Gambier, Julian Bowen, Jade, Gleneagle, Lexington Linen, John E Coyle, Brockway Carpets, Carpets of Worth, Associated Weavers and Choice Rugs.
Farley's the complete house furnisher established 1928, with four generations of family values.
Call us on (01843) 593069
Please Mention The Best Of Broadstairs When Calling.