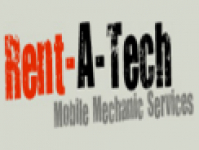 Rent-A-Tech Mobile Mechanic
Rent-A-Tech
Unit 3
George Thomas Avenue
Brynmenyn Industrial Estate
Brynmenyn
CF32 9SQ
T:
07825 993053
M:
07825 993053
about us
Rent-A-Tech mobile mechanic serving the Bridgend area and offering a full range of vehicle servicing to save you time and money.
Mobile Mechanic Bridgend … Rent-A-Tech
NOW also offering Servicing, MOT and repairs at their Unit in Brynmenyn.
There are many reasons why you may find it difficult to take your car to the garage for repairs and servicing but there is a cost effective and efficient solution.
Rent-A-Tech offer a mobile mechanic service which will take care of your car while you take care of the other things you have to do.
If you imagine that using a mobile service means you have to compromise on standards of repair and servicing when using a mobile service … think again. We provide a comprehensive range of vehicle services at your home or workplace and all work is carried out by experienced, fully qualified motor vehicle technicians.
Most repairs can be carried out at your home or place of work but we also offer a collections service for MOT's, servicing and repairs which need to be done in the workshop.
The parts used by Rent-A-Tech also carry a 12 month guarantee (excluding wear and tear).
Our guarantee to you
Rent-A-Tech is happy to provide a quote for all servicing and repairs.

We offer a friendly, stree-free low cost service with no call out charge.

We know that there are lots of garages out there so please check out our LOW prices before you commit to expensive garage prices.

Door to door pick-up and delivery of your vehicle and a courtesy car removes all the stress of keeping your car in tip top condition.
Our Services
If you are fed up of main dealer prices, you can rest assured that we will save you money by repairing and servicing your car without invalidating your warranty. De-regulation means that independent garage services such as Rent-A-Tech are now able to carry out repairs on any make of vehicle and stamp your book so that your service record is not compromised.
MOTs
As a designated MOT testing service we can confirm if you pass, before you part with any cash.
MOTs are carried out in our workshop but we collect and return your vehicle and keep you up to speed on the outcome.
Annual Services
Maintain your service record without the hassle of going to a garage. All servicing is carried out at your convenience without voiding your warranty.
All Repairs
If you care needs fixing we use the most up to date vehicle diagnostic technology to find the fault so do not waste time and money on fault finding. general repairs to keep your motor in tip-top shape.
Air Conditioning Re-Gas
We service and re-gas air conditioning systems so that you can stay cool when the temperature rises.
Breakdown Service
As a mobile mechanic service we excel at road side repairs and recovery. We pride ourselves on providing a first class service when you need help most.
Accessories Fitted
We know your vehicle is your pride and joy so if you want to stand out from the crowd let us pimp your ride!
Welding
If you car chassis needs a repair which requires welding, we can help!
---
When contacting Rent-A-Tech Mobile Mechanic of Bridgend, please mention that you saw his feature on The Best of Bridgend. If you used their services and would like to post a testimonial, please send it The Best of Bridgend.
At the Best of Bridgend we put Bridgend people in touch with quality providers who care about offering a good level of service in the Bridgend area.
find us here

follow us

find us on facebook

thebestof awards