Lakefield Nursery School
about us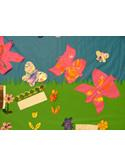 Lakefield Nursery School was established in Brackley in 1987
Lakefield Nursery School recognises parents as being the primary and most important educators of their young children. We offer a holistic approach to the education of your child.
Accredited by the National Day Nurseries, Lakefield Nursery School in Brackley offers an excellent and creative environment for your child to develop and flourish.
Lakefield Nursery School's aims are to enhance the development of children in a safe, secure and stimulating environment. Children's experiences in their earliest years are vital and we work within a framework to bring out the best in each child.

Your child will benefit from Lakefield Nursery School's fully-qualified, friendly and enthusiastic staff. Children are individually supported to develop confidence, social skills, learning ability and self-respect. We are proud of the high ratio of adults to children in our group.
* excellent Ofsted report
* children aged 2 - 5 years
* government vouchers accepted (ask for more information)
* full/part time places available
* safe, secure outdoor play area
* home cooked meals
* each child has his/her own keyworker 
Lakefield Nursery in Brackley also offers out-of-school activity clubs for children aged 2 -12. These include a Breakfast Club, After School Clubs and a Holiday Playscheme. These clubs make life easier for busy parents and make life fun for children.
Lakefield Holiday Playscheme
8.00am - 6.00pm. To include breakfast, am and pm snack and hot supper. Please provide a packed lunch. Hourly rate is £3.
Our holiday playschemes cover Summer, Easter, Christmas and all half terms. Use as many or as few hours as you wish between 8am-6pm.
Breakfast Club
8.00am - 9.00am  £3 includes breakfast and delivery to school*
After School Club
3.20pm - 6.00pm, or 3.00pm-6.00pm  £8.00 or £9.00 with pick up from school*, afternoon snack and hot supper

We believe highly in learning through play
Brackley's out of school activity club at Lakefield is a place where children are cared for, develop, try out new things, make friends and play. What children do and experience at our activity club is an important part of their childhood. Young children learn best through play, older children can gain self esteem and confidence. The activity clubs offer plenty of scope for creative, imaginitive and boisterous activity. There will also be quiet times for reading, relaxing and playing board games.

If you are looking for a nursery school or after school clubs or holiday playscheme in Brackley where your child can flourish, enjoy a range of equipment and opportunities in a wonderful and nurturing environment, please contact
Angela at Lakefield Nursery School
on Brackley (01280) 701587
to receive our handbook or arrange a visit.
Lakefield Nursery School - providing the best nursery care for your child
please mention The Best of Brackley when contacting Lakefield Nursery about nursery schools and after school clubs in Brackley
Contact Us

36 Banbury Road
Brackley
Northamptonshire
NN13 6AT

our audio

thebestof awards