Balloons at Dulak
about us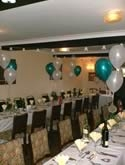 Brackley's Best Range of Foil and Latex Helium Filled Balloons available at Dulak; your Balloon Specialist
<?xml version="1.0"?>
Dulak in Brackley
is you local Balloon Specialist stocking
balloons for birthdays
balloons for weddings
balloons for anniversaries
balloons for Christenings
balloons to celebrate new borns
balloons with special messages
balloons for any special event in the Brackley area and beyond!
Create your own bouquet of balloons which are just as effective as flowers. Prices start from as little as £4.
As Brackley's balloon specialists, we also hold a large stock of both plain and patterned latex balloons for any function where a large quantity of balloons is needed.
For special occasions, such as weddings and special event parties, we offer a free delivery in the Brackley area (a small charge would be made for the surrounding areas).
Look out for our seasonal balloon range and special delivery service on days such as Valentines Day and Mothers Day.
Our rates are highly competitive and we use only the best quality Qualatex balloons to achieve the best finish and effect!
Balloons at DULAK; your Brackley based balloon specialist!
call Dave on
01280 705600
for further information
and please mention The Best of Brackley
Contact Us

24 High Street
Brackley
Northamptonshire
NN13 7DS

thebestof awards