Kingfishers of West Moors
(

1

reviews)
about us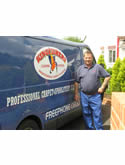 Furniture cleaning services at their best in and around Ferndown and Bournemouth - local, friendly and no nonsense!
Kingfishers of West Moors, located just outside Ferndown, near Bournemouth, is owned and operated by Ray and his partner Pat. With over 30 years experience in the furniture cleaning business, he knows how to get results. Suite cleaning, chair cleaning, sofa cleaning - you name it, Ray can clean it!
A little while ago Ray owned his own furniture cleaning business in the London area, but has now decided to "retire" to a village community just outside Ferndown, Bournemouth and offer his furniture cleaning services to the local people.
The truck-mounted furniture cleaning system he uses has a 300ft hose that enables even the furthest corners of both homes and businesses in the Ferndown and Bournemouth area to be reached. With over 10 times the power of normal furniture cleaners, it gets right to the roots of the fabrics ensuring a really deep clean.
Furniture cleaning services of this type have many aspects, which can be used to address such problems as allergy treatments, dust mite removal, fire damage, water damage, odour removal and protective treatments. Any kind of furniture can be tested before cleaning to ensure that the process will not cause any damage - chairs, sofas or even whole suite cleaning.
Ray is so certain that you will be pleased with the results from his furniture cleaning services that he will offer a satisfaction guarantee! There are also special discounts for old age pensioners in Ferndown, Bournemouth and the surrounding area and his free quotes have no hidden extras.
Just to highlight some of the benefits that Ray can offer you:
His furniture cleaning won't use your water
His furniture cleaning doesn't dump a pile of dirt in your driveway
His furniture cleaning wont pour dirty water onto your rose bushes
There are no noises and  no fumes from his furniture cleaning
He can pull into your attached garage, close the door and operate his furniture cleaning services equipment all very safely even in bad weather
Any foul, muggy odours are extracted outside into the furniture cleaners van's holding tank and taken away - thus leaving your furniture clean and fresh smelling!
So if your home or business furniture could do with a really good, deep clean give Ray a call today on Ferndown 01202 861944 and see how his furniture cleaning services can make all the difference!
Please mention
The Best Of Bournemouth
when making enquiries.
Contact Us

245 Station Road
West Moors
Ferndown
Dorset
BH22 0HZ