about us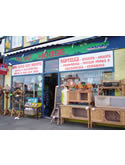 The Pet House - your Bognor Regis pet shop and pet supplies specialist
The Pet House Bognor Regis is a family run pet shop and pet supplies specialist, run by Paul and Tina Culling. The business was established in 1994, and the business has grown on the basis of friendly and caring customer service. Staff is City & Guild trained, and happy to give any advice and help, to new or experienced pet owners.
Pet shop and pet supplies specialist The Pet House is located at North Bersted, Bognor Regis, with plenty of free parking nearby. Like Aladdin's cave, the shop seems to go on forever, with a wide stock of livestock, foods, and accessories.
Visit The Pet House of Bognor Regis to see their full range of furry friends such as rabbits, guinea pigs, and hamsters. They specialise in English-bred, hand-reared baby parrots. If you are looking for reptiles or goldfish, they will also be able to help you. Not only can they advise you on the best pet for you, but also on the correct food, care and accessories for the health and welfare of them.

If you already have a pet, then you will find a wide range of pet products such as : -
Dog and cat supplies
Rabbit, and hamster supplies
Bird and fish supplies
Other small animal supplies
Reptile supplies
Accessories
Bedding
Books
Food
Gifts
Health & Hygiene
Toys and treats for your pet
Miscellaneous
A large selection of cages is available for your feathered friends, particularly for parrots. Also they specialise in reptile food - both live and frozen, to keep your pet in top condition. Of course they stock a large range of high quality, vet designed foods for different breeds, for normal and special dietary requirements, including Hills, James Wellbeloved, and Royal Canin dog and cat foods, and Supreme Small Animal Food.
Local deliveries are free in the Bognor Regis area, and telephone orders are welcome.
---
If you are going on holiday, or need respite for any reason, please rember that The Pet House also has a special boarding facility for small furry pets, such as rabbits, hamsters, and guinea pigs, as well as parrots and reptiles.
---
Contact pet shop and pet supplies specialist The Pet House now for all your pet requirements. Telephone Bognor Regis 01243 869555.

---
The Pet House is open seven days a week, including Bank Holidays.
Monday - Saturday :  8.30 am till 5.30 pm
Sunday                     :  10.00 am till 1.00 pm
Credit Cards accepted.

---
The Pet House of Bognor Regis is a member of the PTIA , or Pet Care Trust as it is now known, which is committed to best practises and high standards for the pet trade, with a Pet Care Charter for proper pet keeping.

---
Please mention The Best of Bognor Regis when you
contact The Pet House. Thank you.
Contact Us


291 Chichester Road
Bognor Regis
West Sussex
PO21 5AL

our audio