about us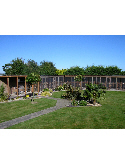 Friendly cattery near to Bognor Regis
Oakview Cattery in North End Road, Yapton, near Bognor Regis is 'Where Cats Come First'. Established in 2002 Oakview Cattery is a family run business, set in a quite rural location where your cats go on holiday at the same time you do.
With large spacious runs overlooking the beautiful tranquil gardens of the house the aim for Anita, the owner of Oakview Cattery and cat lover herself aims to give your cat a peaceful, relaxing and enjoyable home away from home whilst on holiday.  Anita and her husband Jon have over 30 years experience caring for cats, they are extremely knowledgeable and friendly and are always willing to answer questions, offer advice or show prospective owners and their cats around.
As already mentioned Anita and Jon have a wealth of experience in caring for cats and kittens at their Oakview Cattery just outside Bognor Regis, yet it's the 20 years of showing and breeding cats to champion status that reinforces why many people rest assured that their cats are in safe, caring hands with Anita and Jon, whilst they enjoy their holiday.
All of Oakview's cat runs or holiday homes are kept immaculately clean and are fully heated with a choice of sleeping levels, a window shelf, front sun shelf, ladder and most importantly for any cat, a scratching post. The full height frosted barriers between runs also allow your cat complete privacy without loss of natural daylight. Oakview Cattery can also accommodate two cats in the same run or even a family of cats (3-4) if required. All feline diets are catered for and include fresh fish and chicken.
Oakview Cattery is licensed and approved by Arun District Council and have veterinary insurance up to £1250 per cat (pre-existing conditions excluded). They are also able to administer medication and diabetic injections.
Your cat will truly enjoy his or her holiday at Oakview Cattery. Not only will they get the utmost care and attention from friendly experienced and knowledgeable cat lovers, they will get the one thing all cats enjoy - plenty of fuss and cuddles.
Oakview Cattery
North End Road
Yapton
Arundel
West Sussex
BN18 0DH
Tel: Bognor Regis (01243) 555 490
Email: anita@oakviewcattery.com
Web: www.oakviewcattery.com
---
Please mention 'The Best of Bognor Regis' when contacting Oakview Cattery. Thank you.
Contact Us

North End Road
Yapton
Arundel
West Sussex
BN18 0DH