Keith Jay Limited
about us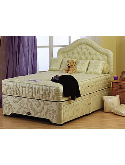 Long established family store for Beds and bedding in central Bognor Regis
Don't lie awake at night, tossing and turning, because you can't find the right bed. Call into Keith Jay Ltd in Bognor Regis for expert advice and a wide range of beds.
"Keith Jay are proud of their family heritage and retail experience of over 40 years, having served three generations of families in Bognor Regis."
Keith Jay have been providing beds and bedding for the good people of Bognor Regis for over 40 years and top quality service is a priority within the company.

Their friendly, helpful, knowledgeable staff are always keen to be of assistance, but won't send you to sleep with lots of technical details.
Whatever bed or bedding you're looking for, a classic bed, wooden, iron, metal, the latest contemporary designer style, or the luxurious indulgence of an adjustable bed Keith Jay have most beds available in stock. They can provide mattresses and bedding to match too! All at a price that's competitive and suits every pocket.
There's free delivery within the Bognor Regis and local areas, (Please contact Keith Jay for areas further away) and even your old bed can be disposed of if necessary.
"Competitive prices to suit all pockets and free delivery."
Keith Jay Ltd also provides a large range of bedroom furniture to compliment your choice of bed and also an extensive range of carpets here,to complete the look. Also available in the Bognor Regis showroom are ranges of furniture to suit every room in the house.
Please call Bognor Regis (01243) 865 088 or call in to their showroom in London Road, Bognor Regis, for friendly help and advice.
The showroom has good parking nearby.
Keith Jay Limited
66-68 London Road
Bognor Regis
West Sussex
PO21 1PT
Tel: (01243) 865 088
Fax: (01243) 825 625
Email: KeithJayltd@hotmail.com
---
Please mention 'The Best of Bognor Regis' when contacting Keith Jay Limited, for your beds.

Contact Us


66-68 London Road
Bognor Regis
West Sussex
PO21 1PT