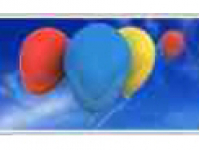 Balloon-a-Doo Party Shop

York Road
Bognor Regis
West Sussex
PO21 1LW
T:
01243 867 873
F:
01243 867 879
about us
Well established balloon specialist in Bognor Regis
Fun, bright, bold and always entertaining, balloons are not just for parties.
From weddings to large-scale occasions balloons can add a sense of excitement, glamour and fun to any event.
Ballloon-a-Doo balloon specialists in Bognor Regis are experts providing balloons and balloon sculptures.

Whether it's a party, wedding, anniversary, business function or special occasion, Balloon-a-Doo's specialists take great pride in catering for all tastes and all budgets.
Balloon-a-Doo is an independent shop established 9 years ago in Bognor Regis by Loraine Hall, a fully qualified and Qualatex trained Certified Balloon Artist. She is also a member of the NABAS. Since opening in 1998, Loraine has successfully grown and developed Balloon-a-Doo as a business on the back of repeat custom and excellent customer service.
Balloon-a-Doo are happy to freely advise on their complete portfolio of balloons in all shapes and sizes, from party balloons to balloons for specific occasions and how to use them to create maximum impact.

No-one can do balloons like Balloon-a-Doo!

To make your event easier , Balloon-a-Doo can deliver all balloons for you, and offer a complete decorating service or DIY service including helium inflation of balloons, depending upon your requirements. They can also supply all ribbons, weights and other items upon request. Balloon-a-Doo is also fully insured.
Why not drop by their fun store in York Road, Bognor Regis, see their full range of party balloons and speak to one of their balloon specialists about giving your party or occasion that extra 'WOW' factor.

Last minute and after hours appointments are available. Please contact to discuss further.
---
Balloon-a-Doo can also provide other party products such as, themed table wear, banners, wrapping paper, hen night accessories, see here, as well as over 500 fancy dress costumes, as shown here.
---
Balloon-a-Doo Party Shop
7-11 York Road
Bognor Regis
West Sussex
PO21 1LW
Tel: Bognor Regis (01243) 867 873
Fax: Bognor Regis (01243) 867 879
Email: partychic@hotmail.co.uk
---
Please mention '
The best of Bognor Regis'
when contacting Balloon-a-Doo balloon specialist. Thank you.
Balloon-a-Doo - Balloon specialists - Bognor Regis