about us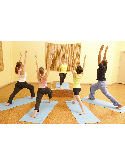 Ann Canfer is a qualified and highly experienced Yoga Teacher offering Yoga classes in Bognor Regis and Chichester Bognor Regis.
Why Yoga?

Yoga is one of the oldest forms of exercise, practiced in ancient times.  It has been introduced to the West with startling results.  Using a combination of breathing, posture positions and controlled stretching and meditation Yoga has benefited the health of millions of people throughout the centuries.  In this modern day life Yoga is a strong health protector and prevents against a large range of ailments including: stress, fatigue and back problems.  Yoga is also a highly enjoyable and spiritual experience that many owe their wellbeing and balanced life to. 

About Ann Canfer

Ann Canfer of Bognor Regis is from a nursing background and is a qualified SRN with an interest in health, healthy lifestyle, diet and exercise. Holding a British Wheel of Yoga Diploma and with over 30 years experience in practising yoga and over 12 years teaching, Ann Canfer provides a relaxed, friendly and welcoming safe environment for you to develop the techniques of yoga.

Call Ann Canfer of Bognor Regis now to find out more on
 01243 826 887.

Yoga's Benefits

• Yoga benefits people of all ages
• Yoga is not high impact therefore it does not strain any muscle or joint
• Yoga works with your body creating suppleness and strength
• Yoga tones the whole body whilst nurturing each muscle
• Yoga optimises breathing techniques that not only enhance how our body works but stimulates total relaxation
• Yoga facilitates release from stressful modern life
• Yoga improves your health

Book a yoga class with Ann Canfer in Bognor Regis or Chichester now. Call on 01243 826 887 or email ann.canfer@tesco.net

Where and when you can find us:

Our timetable gives you three classes to choose from. 
Mondays 7.30pm – 9.00pm located in Chichester
Wednesdays 7.30pm – 9.00pm located Bognor Regis
Thursdays 7.30pm – 9.00pm located in Chichester

Call us today on 01243 826 887 or email ann.canfer@tesco.net for class details and bookings.

Your own experience

Ann Canfer also offers one to one private yoga tuition that focuses on you and your personal development.  For more information call 01243 826 887.
Complementary treatments for you

Ann Canfer not only practices yoga but provides a range of complementary treatments:

Indian Head Massage – Ladies only
Full Body Massage (Qualified ITEC) - Ladies only
Reflexology (Qualified IIHHT)

Yes yoga is for you

Whoever you are whatever your stage of life yoga will improve your health and wellbeing. 

Your body and mind are precious so let Ann Canfer help you nurture yours!
When contacting Ann Canfer Yoga, Bognor Regis please mention "thebestof" Bognor Regis.

Contact Us

Shanti Cottage
56 North Bersted Street
Bognor Regis
West Sussex
PO22 9AE

our audio