Women in Business Network
about us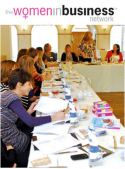 The Women in Business Network (WIBN) in Bishop'€™s Stortford is a business support and networking group that is committed to helping your business thrive.
The Women in Business Network (WIBN) has a simple philosophy - to bring together like-minded women and produce collaborative opportunities and a wealth of expertise that everyone can benefit from.
Taking place on the first Wednesday of every month at The Lemon Tree on Water Lane, WIBN Bishop's Stortford helps you take your business back to basics - putting names to faces and faces to companies.
The Women in Business Network brings together businesswomen from all industries, with members coming from all walks of life, including:
Counselling and Psychology

Independent Financial Advice
---
Networking for Everyone
Whether you run your own business or you are an employee of a larger Bishop's Stortford business; a new start-up enterprise or a long-established company; visit a Women in Business Network meeting to:
Build your database of contacts

Meet other women in the same position as you

Benefit from the support and advice that comes with developing relationships with other businesswomen

Grow your business in a fun yet structured environment
---
It's always the right time to network!
It's understandable that with many businesses having to tighten their belts and reduce their marketing and advertising outlay, you may be unsure as to whether networking will provide you with the return on investment you require.
However, WIBN's members have benefitted massively from the contacts, camaraderie and advice the networking group provides.
Irrespective of the economic climate, networking and growing your business with other local, like-minded business women is never a waste of time or money!
---
Become part of a successful, enterprising networking group
There are currently almost twenty members who regularly attend the monthly Bishop's Stortford Women in Business Network meeting, and with numerous guests visiting every month, you are sure to find their dynamic group fun, interesting and worthwhile to your business.
The business support and networking meeting takes place from 12pm until 2pm, and due to its structured itinerary, you will have the opportunity to tell the other guests and members about yourself, your business, short and long term goals and what type of contacts would benefit you.
And because WIBN has a policy of 'one profession per group', you will never find yourself sitting with women in direct direct competition with you!
---
Find out more
The Women in Business Network Bishop's Stortford takes place from 12pm-2pm on the first Wednesday of every month at:
The Lemon Tree
14-16 Water Lane
Bishop's Stortford
Herts
CM23 2LB
Please call Gill Tiney on 01279 271 436to book a place at the next Bishop's Stortford WIBN meeting.
---
Please remember to mention The Best of Bishop's Stortford when contacting business support and networking group, the Women in Business Network - thank you.
© The Best of Bishop's Stortford
Contact Us

The Lemon Tree
14-16 Water Lane
Bishop's Stortford
Herts
CM23 2LB

find us here

find us on facebook