about us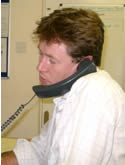 Personal Computers and Laptops Locally Supplied and Locally Supported
KCS total I.T. Solutions have been established in Berkhamsted for over 7 years working to enhance our reputation for supplying and supporting a full range of personal computers and laptops either stand alone or in networks for our Berkhamsted retail and corporate customers.
KCS give great customer service which we call WORRY-FREE-COMPUTING; it means that when you have a problem with your personal computer or laptop supplied by KCS in Berkhamstead we provide prompt quality stand alone and network support over the telephone, the internet or on site.
We don't use jargon! We use ordinary English
Our services for personal computers have grown over the years and now include:
On site support and installation services
Personal Computers and Laptops repaired
Printers Repaired
Network Support
Virus and spyware elimination
Hire Service
Consumables
Once we know what you want to do with a personal computer we will make a recommendation for a new or guaranteed, refurbished system that meets both your needs and your budget and then provide support when you need it. 
---
It is said by many of our customers in and around Berkhamsted that "we are nice people who know what we are doing". In an industry where that is not too common we spare no effort to maintain that relationship.
---
Print this webvert and bring it with you to KCS in Berkhamsted opposite the Rex and we will provide a USB 512K memory pen free with any personal computer or laptop purchased.
---
Please mention the best of Berkhamsted when you call

Contact Us

92 High Street
Berkhamsted
Herts
HP4 2BL

our audio

thebestof awards