Niall Little Photography
(

1

reviews)
about us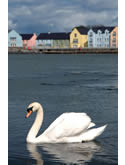 Niall Little Photography, photographers of distinction, Belfast: quality photography for every occasion
Niall Little Photography: catching the moments that matter!
You can entrust your big days and special occasions to
Niall Little Photography – photographers of distinction

There aren't many photographers in Belfast who can offer the same mix of classic photography technique and cutting edge technology as Niall Little Photography.
Chances are, you already know Niall's work. If you've ever bought or sold a house in Belfast, you'll have seen it. You'll have admired the quality and the composition. You'll have seen why he's worked with all the major estate agents in Belfast, supplying photographs and even panoramic vistas to enhance house listings and promotions. But there's a lot more to the Niall Little Photography portfolio…
---
With fifteen years experience as a photographer, Niall Little Photography is a trusted service provider. That's why Niall can be counted on to take care of your big days and special occasions. Wedding photography and commercial photography are both specialities.
Whatever the occasion, Niall Little Photography will ensure that your photos speak for themselves: beautifully framed and perfectly composed, they'll say more for your product or big day than words ever could.
 

Whatever your photographic requirements in Belfast, Niall Little and his team of photographers can oblige:
Wedding photography – candid style photographs and natural 'reportage' photos a speciality
Commercial photography – web sites, product photography and action photos
Family portraiture – even 3D portraiture!
IPIX 360 degree photography is available to transform web sites and commercial promotions; even family
photographs!
Niall Little and his team of photographers employ the latest photographic techniques and equipment to produce results that are tailor made to your requirements. They'll work with you to make sure that your photos don't just capture the moment, they hold the attention!

Contact Niall Little Photography
on Belfast 028 9064 6818
for photography that tells its own story
---

Please mention thebestof Belfast when contacting Niall Little Photography, photographers of distinction, BelFast. Thank You!
Contact Us

78a Sunnyside Street
Belfast
Co. Antrim
BT7 3EY