Bramley Osteopaths
about us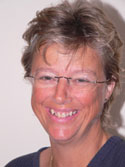 Basingstoke's Paediatric and Cranial Osteopath successfully relieving pain and discomfort
Becky Hall BSc (Hons) Ost Med, ND, Dip SMT
Registered Osteopath & Naturopath
Basingstoke (01256) 884139
'Healing Hands'
Have you heard about Osteopathy? Osteopathy is an effective, and increasingly popular, method of treating a whole range of problems for babies, teenagers, adults, mums to be - in fact, anyone who is suffering from pain or discomfort.
Becky Hall, is a registered Osteopath and Naturopath, and is based in Bramley, near Basingstoke. Becky offers a gentle, safe and non-invasive type of osteopathy to the Basingstoke community known as 'Cranial Osteopathy'. This is a refined and subtle type of osteopathic treatment that uses very gentle manipulative pressure to encourage the release of stresses throughout the body, not just the head.
Conditions treated by osteopathy include:
• Back & Neck Pain
• Sports Injuries
• Unsettled and 'colicky' babies
• Bowel & Bladder Problems
• Muscle & Ligament Strains
• Headaches and Migraines
• Asthma
• Hyperactivity
• Head Injuries
• Dental Problems
• And much, much more
Becky Hall is committed to continued professional development and has just completed an MSc in Paediatric Osteopathy at the Osteopathic Centre for Children in London. She is also a qualified sports massage therapist. Associating strongly with the naturopathic philosophy, advice and instruction in rehabilitation exercises and nutrition are a standard part of any treatment programme.
Visit our website or to experience this extremely effective treatment modality from a registered Cranial Osteopath, call Becky Hall on Basingstoke (01256) 884139.
Please mention 'The Best of Basingstoke' when contacting Bramley Osteopaths- Osteopath
Contact Us

7, St Mary's Avenue
Bramley
Tadley
Hampshire
RG26 5UU

find us here

find us on facebook