Alfreton Hall
23rd July 2013
Author: Chris F
Comments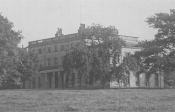 The Hall was built around 1724-25 by Rowland Morewood for George Morewood and it was owned by the Palmer-Morewood family who were the owners of many of the local coal mines. Alfreton was the chief coal mining centre in Derbyshire during the 18th Century and was the third-largest town in the county.
In 1855, an additional wing was built onto the house making Alfreton Hall quite a substantial property. It was added by William Palmer-Morewood and his architect Benjamin Wilson. The extension is a grade II listed building and this wing, today, is an adults arts and education centre.
Derbyshire County Council aquired the Hall and grounds, some 90 acres of ajoining parkland, for £28,500. They sold the house and 4 acres of the grounds to Alfreton Urban District Council 1964.
The house had been extremely weakened by mining subsidance so in 1968 most of the house was demolished.
During 2006, after the property was sold to Genesis Social Enterprise, Alfreton Hall was restored and is now a venue for conference and banqueting events and weddings. It also incorporates a french-style restaurant.