Swan Veterinary Practice
about us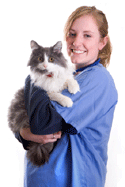 A friendly and caring vets' practice in Dyce and Aberdeen
Veterinary Surgeon
Mr W K Swan BVMS, MRCVS
We are a small friendly vets' surgery in Victoria Street, Dyce with a branch in Holburn Street, Aberdeen.
Wally Swan has been in practice since1980 after qualifying in Glasgow and has a vast experience in caring for small animals and domestic pets.
We offer a comprehensive service with full surgical facilities including x-rays and operations. 
Our Dyce surgery operates on an appointment system within the following hours:
Monday – Friday
9 am – 10 am and 4 pm – 5.20 pm
---
Holburn Street Vets' Surgery
458 Holburn Street
ABERDEEN
This vets' surgery operates on a no appointment system.
Monday – Friday
2 pm – 3 pm and 6 pm – 7 pm and Saturday 2 pm – 3 pm
Prevention is far better than treatment – whether you're human or animal – and we have a range of preventative veterinary services designed to help you keep your pet in perfect health.
We take pride in helping you care for your pet and offer the following services: 
vaccination
annual examinations
pet dental care
neutering
worming
flea control
nutritional advice
weight checks
Pets do develop illnesses and get injured and we are here to help.   We have access to a wide range of procedures and equipment to make sure that your pet gets back to full health as quickly as possible.
We'd love to meet you and your pet, so why not give us a call and book your pet in for a check-up in Dyce, or just call at our Holburn Street surgery between the stated times.
Vets in Dyce and Aberdeen for small animals and domestic pets
W K Swan veterinary surgeon.

---
Please mention The Best of Aberdeen when contacting the Swan Veterinary Practice in Dyce and Aberdeen.
Vets - Dyce - Aberdeen
---
Contact Us

71 Victoria Street
Dyce
ABERDEEN

AB21 7FJ