Simply Bliss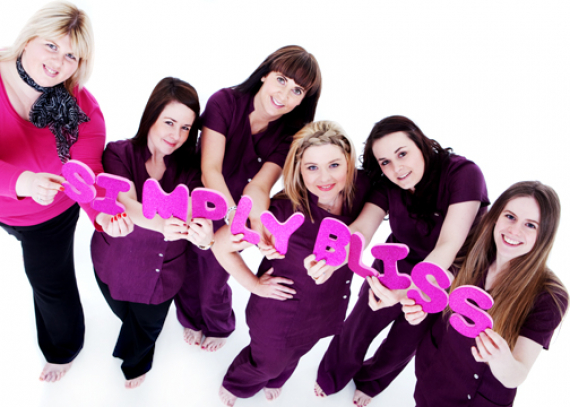 about us
Simply Bliss is one of Aberdeen's top beauty salons, offering an extensive range of body and beauty treatments in a relaxing and friendly atmosphere, including massage, manicures, facials and skin treatments, and waxing. Book yourself a bit of bliss today!
Simply Bliss
Professional beauty therapy in Aberdeen
Are you in need of some pampering? Looking for the perfect gift for someone special? Simply Bliss beauty salon in Aberdeen offer an extensive range of body and beauty treatments in a relaxing and friendly atmosphere, including facials and skin treatments, waxing, massage, manicures and pedicures.
From essential beauty packages and express grooming, to indulgent pamper days, a trip to this top beauty salon in Aberdeen is sure to be simply bliss.
Beauty Salon
Whether you want to treat yourself or a loved one to an afternoon of pampering, find an experienced make-up artist for a special occasion, or have a facial tailored to your individual skincare needs, visit the experienced and professional beauty therapists at Simply Bliss in Aberdeen. Simply Bliss offer a wide range of treatments, including:
Pulsar IPL hair reduction

Aesthetics - such as derma fillers and skin peels
Why not book a manicure or pedicure treatment for two, and enjoy a morning treat with a friend or family member? Simply Bliss also offer a range of packages, such as the Yummy Mummy pre or post pregnancy package and the Pure Bliss Signature luxury treatment, with lunch available on request.
Visit our website above to download the Simply Bliss brochure, plus the latest offers and bliss packages.
Massage
What better way to de-stress and unwind than a relaxing massage? From Indian head massage to hot stone and full body massages, Simply Bliss offer a selection of soothing massages that will leave you feeling completely relaxed and with a sense of well-being.
You can also treat yourself to a Simply Bliss relaxing and intensive body treatment, such as:
Deep Cleansing Back Treatment

Pure Bliss Coconut and Vanilla Body Exfoliation with Full Body Massage
So next time you're feeling knotted up, why not book yourself a bit of bliss with a Simply Bliss massage?
Waxing
For all your waxing needs visit Simply Bliss in Aberdeen. From eyebrow to leg waxing, skincare for women and waxing for men, Simply Bliss offer traditional waxing methods as well as Lycon hot wax, which removes short, stubborn hair and is said to be virtually pain free.
For permanent hair reduction why not try Pulsar IPL (Intense Pulsed Light) hair removal, giving you quicker and longer lasting results. See results after a few 10-20 minute sessions. For more information on what the Pulsar IPL system can treat, call the fully qualified beauty therapists on 01224 630044 today.
Nails and Manicure
For a wide range of hand and foot treatments, from essential foot grooming to high fashion nail designs, visit Simply Bliss beauty salon. The selection of treatments includes:
Essential Manicure/Pedicure

Gelish/Shellac Polish Fingers or Toes
If you have a wedding or special event on the horizon, why not choose a Gelish and Shellac nail polish for a long-lasting manicure? Gelish colour gels are applied like polish and then cured under a lamp, staying on nails for three weeks without chipping and peeling. The Shellac system features base, colour and top coats of polish which with a UV lamp create flawless nails that remain for two weeks and can be removed in ten minutes.
Or jazz up your manicure with Simply Bliss nail art, such as fashionable Minx nail designs that can last up to 6 weeks.
You can also add paraffin wax and genuine Swarovski crystals to any manicure or pedicure.
To find out more about the extensive range of treatments and packages, and monthly promotions call
Simply Bliss today on 01224 630044
or visit our website above.
Please mention thebestofaberdeen when contacting Simply Bliss.
Beauty Salons, Massage, Waxing, Nails and Manicure
Contact Us

169 Rosemount Place
ABERDEEN
AB25 2XP

find us here

find us on facebook

thebestof awards