Hatstand Nelly
(

52

reviews)
about us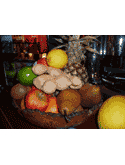 The best juice bar in Aberdeen - for good health and great taste.
<?xml version="1.0"?>
Come to the juice bar at Hatstand Nelly in Aberdeen and enjoy a fantastic experience. With an organic live juice or smoothie, you can enjoy all the nutrients required by your body and give yourself a boost.
Situated in our hair salon at 250 Holburn Street, Aberdeen, you can have your juice to drink in, or take away. Either way you will find your juice tastes great and is full of healthy nutrients.
Live juices are great energy providers - they strengthen the body's natural immunity and can help combat illness, resulting in overall better health. Juices are readily absorbed and come in a virtually pre-digested form, allowing an efficient uptake of nutrients.
Juices are a great way of detoxifying, purifying the bloodstream & cleansing the internal organs and what is more THEY TASTE FANTASTIC!
Juice makes you feel good and it's a real fast food - it can take seconds to drink, but the benefits can be felt within minutes and can feed the body for hours - so no more need for artificial stimulation; your body will have all the resources it needs to function at its best.
At Hatstand Nelly in Aberdeen we offer great juices and great smoothies. In the same premises as our hair salon and beauty salon, why not combine your healthy juice with a visit to our hairdressing salon.
In addition to the fresh fruit and vegetables that we use in our juices and smoothies, we offer extra supplements to further improve your health, including flax seed, wheatgrass, ginger, honey and Echinacea.
At our Juice Bar in Aberdeen we can also mix our juices and smoothies with pro-biotic bio-live yoghurt to keep your gut healthy.

If you are in a hurry, you can call and order your juice or smoothie to be ready for you to collect. Hatstand Nelly's juices and smoothies are great fast food for a busy life style.
Hatstand Nelly
The juiciest juice bar in Aberdeen
250 Holburn Road
ABERDEEN
01224 210007
---
Please mention The Best of Aberdeen when contacting Hatstand Nelly for your Juices and Smoothies.
---
Contact Us

250 Holburn StreetABERDEEN

AB10 6DB

find us here

follow us

This is a live stream from Twitter - not the voice of thebestof!

find us on facebook

thebestof awards